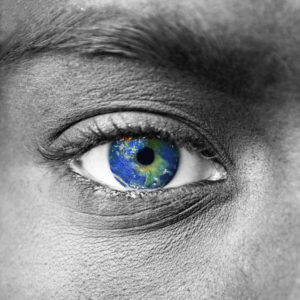 What is Woman Sees World
Woman Sees World is a look into the mind of the modern woman, how she sees the world and her place in it. What began as a seedling of an idea to explore the female psyche in current society has evolved into a deeper conversation. This conversation between women reveals what they really think about everything, from love and family to politics and business and of course, most importantly, the issues surrounding gender and being a woman.
Who and How
Women aged 20 to 100 from all cultural, racial, socioeconomic, and political backgrounds are interviewed and asked the same series of questions, with some variation, on a myriad of topics from the very personal to the wildly political and everything in between. No woman is off limits. All women, regardless of their beliefs or politics are welcomed to be interviewed and express their opinions. The interviews are ongoing and content will be continuously added.
Each woman is interviewed in person and their personal identity remains anonymous, showing only demographic info like city/state, age, race and other census-type info. We have produced audio files so you can "listen in" on the conversation while the interviewees feel safe to candidly express their opinions, unfiltered.
Where
Everywhere. We started in the South as the creator of WSW used to live in Tennessee. The interviews are extending to every state and eventually, it extends to the entire world.
The Why
 Because it's time. Because this is a very poignant period in history. Because the era of woman is upon us. Women are speaking up, speaking out and leaning in, no longer staying on the sidelines or wallowing quietly in discontent. However, there is still a disconnect between women with other women. It's time to claim our sisterhood.
By listening to these women, we hope other women (and men) will realize how much they have in common, even if they come from very different backgrounds. We often prejudge and classify women as "a certain type" assuming we know everything about her based on her looks or family/cultural background. For example, a married, affluent white female couldn't possibly feel the same way on political issues as a median income, Hispanic, single mom. Not so! Sure, sometimes, but we often don't get past the packaging to give someone a chance.
Here, we are giving women that chance. Here, we realize how women have such a deep shared experience on this planet.
Listen for yourself to see what these women have say about things. You will be compelled to hear what others have to say about the same topic. Instead of seeing women as competition, we hope to see them as sisters and that by coming together, we can affect much more change in the world than by staying within the standard narrative. It's time for women to work together and shift the paradigm of competition and complicity we are programmed to believe. Enough!
Ultimate Goal
The idea blossomed into two main objectives: 1) to honor the storytelling nature of women by offering a forum for them to share their stories and opinions in a conversation just like they would do with trusted friends, and 2) to connect women through this conversation and inspire them be more understanding and supportive of each other in all facets of life.